Sports Leagues Speak to Congress About Climate Change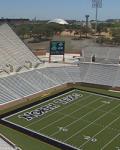 November 21, 2013--Senior representatives from four of the most influential professional sports leagues in the United States assembled at a closed door meeting of the Congressional Bicameral Committee on Climate Change.
Officials from Major League Baseball, the National Football League, the National Basketball Association, and the National Hockey League, joined by a representative of the U.S. Olympic Committee, testified that worsening climate change poses risks to the future of their sport. They all described some of their league's many environmental initiatives and, in particular, the work they do that is focused on reducing their contribution to global warming.
While November 21st is now known as an historic day in Congress because of changes made to the Senate filibuster rule, that date now also represents a watershed in our national debate about climate change: On November 21st, 2013, senior representatives from the major professional sports leagues in the United States testified before Congress for the first time about their organizations' belief that climate change is real and, as Kathy Behrens of the NBA stated, "will only worsen if we do not address the air pollutants that are driving it."
It is notable when senior officials from MLB, the NFL, the NBA and the NHL, all speak before a Congressional committee about the need to address climate disruption. While climate deniers in Congress and elsewhere might think they can attack the U.S. EPA or the United Nations with impunity, surely they would think twice before trying to impugn the integrity of those who lead the professional sports industry. All of the premier U.S.-based sports organizations are among the most culturally influential and highly regarded businesses in the world, and all of them, even including NASCAR, have now stated publicly that climate disruption is real and that we must act to do something about it.
Congressional testimony about climate change by professional sports leagues is also notable because, as a rule, these leagues do not venture into controversial political issues. Instead, the leagues and teams comprising the professional sports industry tend to limit the use of their visibility to social causes on which there is consensus, such as support for the troops, standing up to fight cancer, and celebrating first responders. Now, in an affirmation that the debate about climate change has shifted dramatically, all professional sports leagues are using their visibility to encourage sports fans and their partner businesses to address the risks posed to our environment by climate disruption and other ecological threats.
Natural Resource Defense Council
http://www.nrdc.org/