2013.11.20 Wednesday
23:38
34th America's Cup Earns Clean Regatta Certification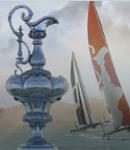 November 6, 2013--Sailors for the Sea, an ocean conservation non profit organization working to promote sustainability in the sailing and boating community, recently awarded its Platinum Level Clean Regatta certification to the 34th America's Cup.
The America's Cup Event Authority earned the honor by adhering to an 81-point best management practices checklist that was then subject to an independent review. These metric-based goals addressed such areas as boat fuel discharge and runoff, composting and waste management, sustainable sourcing of food, and water bottle reduction.
"Each of the 34th America's Cup events provided us with an opportunity to minimize any negative impacts, maximize positive legacy benefits, and engage with the public to deliver a positive sustainability message and raise environmental awareness," said Jill Savery, head of sustainability for ACEA.
"The efforts of everyone involved in delivering event activities have raised the bar for future America's Cup events, and has left a local legacy for the San Francisco community."
http://www.americascup.com/