10th World Conference on Sport and the Environment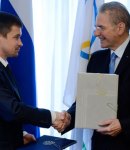 08/10/2013--The International Olympic Committee (IOC), in partnership with the United Nations Environment Programme (UNEP), the Russian government, the Russian Olympic Committee and the Sochi 2014 Organising Committee of the Olympic Games, will hold the 10th World Conference on Sport and the Environment from 30 October to 1 November 2013 in Sochi, Russia.
Under the Conference theme "Changing Today for a Better Tomorrow", some of the key topics to be discussed are: A Collective Vision for Sustainable Development, the new Sustainability Development Goals (SDGs), Russian Legacies pre- & post-Sochi 2014, the sustainable development landscape following Rio+20, and showcasing legacies of the Olympic Games and Olympic bids for sustainable development, as well as highlighting the cooperation with the UN system.
The biennial Conference is one of the IOC's key advocacy initiatives in the field of the environment, and gathers together representatives from the Olympic family, governments, the UN system, academic institutions and NGOs.
Keynote speakers include the first woman from Saudi Arabia to scale Mount Everest, Raha Moharrak (MKD); and pioneer swimmer Lewis Pugh, who is the first to have swum in every ocean of the world and is also UNEP Patron of the Ocean, to mention but a few.
The winners of the 3rd IOC Sport and Environment Awards - which recognise and celebrate outstanding grassroots initiatives in the field of sustainable sport and environment - will be announced during the event.
A press conference is then scheduled to take place after the closing of the Conference on Friday 1 November at 5.30 p.m.
http://www.olympic.org/