First 'green' SEA Games here in 2015?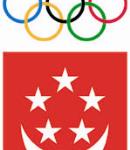 In less than two years' time, Singapore will host the Southeast Asian Games in June 2015. Over the last few months, the organising committee has announced various updates about plans for the SEA Games. What is still lacking, though, is a plan for a sustainably organised event that would also pay careful attention to environmental protection. For a start, the Singapore Environment Council would like the organisers to consider the following.
Firstly, they should ensure that all athletes and officials are transported only in buses which are of Euro 5 standards — or even better, only buses which are hybrids or electricity-driven.
Organisers should also work with the major public transport operators and provide spectators with "season passes", giving them relatively easy mobility to all venues via public transport.
At the World Cup in 2006, ticket holders were given free rides on public buses and trains. Doing so here would avoid unnecessary traffic jams that lead to greater emissions.
Secondly, Singapore's landfill space at Pulau Semakau is not infinite. The organisers should look into ensuring a "zero waste to landfill" policy. To achieve this, it would be essential for all venues to be equipped with recycling bins.
All spectators should be reminded of their responsibility to clean up after themselves and to show the world that Singapore is not a "cleaned" city but one where people are socially gracious. All food waste in catering for the contingents should also be recycled.
Thirdly, there should be a policy that any hotel or venue which accommodates the Games' guests, athletes and officials must adopt strict environmental policies. This means that all air conditioning in the rooms should be set at 25°C. They should also have existing environmental policies in place.
If they do not, then they should not be eligible to tender for any of the contracts which will be up for grabs for the Games. The organising committee has a responsibility to be stewards of the environment, and they should take this huge opportunity to drive the right behaviour among businesses.
Finally, if there is any venue which will need to be upgraded or built, the organisers should ensure that the materials are procured from sustainable sources. This can include construction materials and paint, right down to paper and display materials.
These measures are just the barest minimum the organisers could consider for the SEA Games 2015.
Singapore has often been seen as leaders in the region, especially in our environmental policies which have kept our city clean and green for decades. A green Games would further cement our reputation, and help demonstrate how the region can step up to protect the environment.
http://www.sec.org.sg/web/