US Open Green Initiative program marks its 5th year in developing environmental and sustainable efforts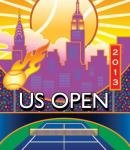 August 28, 2012--The United States Tennis Association (USTA) announced today that it is marking the fifth year of its environmental initiatives at the USTA Billie Jean King National Tennis Center during the US Open, which annually attracts more than 700,000 fans during the two weeks of the event. The US Open Green Initiative has become a recognized leader in greening efforts at sporting events, those efforts aimed at making the US Open responsible for its ecological footprint and creating a sustainable future.
New Initiatives for 2012 • The USTA joined the Green Sports Alliance, a unique collaboration between sports leagues, venues, teams, and environmental experts which focuses on enhancing environmental performance. • The lanyards that will be used and sold at the 2012 US Open are manufactured in part using the tennis ball cans collected at the 2011 US Open. • To match the carbon emissions generated from player travel to the 2012 US Open, Viridian Energy, a socially-responsible energy company, will supply Green-e Climate certified No. 97-2012 Sterling Planet carbon offsets acquired from the Greater Bedford Landfill Gas Utilization Project. • The USTA is locally sourcing more food for the Food Village, suites, stadiums and restaurants than ever before. Use of locally-sourced ingredients and this year 40 percent of all produce will be sourced from the region, including area farms, locally-sourced meat, seafood and poultry. The new Farm 2 Fork stand in the Food Village will feature items created with organic and locally-sourced ingredients. • Hess, the US Open's energy provider, will supply Green-e certified wind renewable energy certificates to match the electricity generated during the 2012 US Open. Recycling • The USTA will continue its fan waste recycling program with a one-to-one ratio of trash and recycling receptacles throughout the USTA Billie Jean King National Tennis Center. • The USTA collects the tennis balls used during matches and players' practices to reuse in USTA tennis programs and to donate to various community and youth organizations throughout the United States. • From the kitchens at the US Open, more than 12,000 gallons of food grease will be converted into biodiesel fuel and 20,000 pounds of food will be donated to the local community. • At least 60 tons of food waste will be collected to be turned into compost for landscape and farming uses. Transportation • To encourage fans who attend the US Open to utilize mass transit, Esurance, official car insurance of the US Open, will award 150 fans a $4.50 MetroCard each day during the two-week event. Paper Procurement • 100 percent of paper towel dispensers have been replaced with motion-sensor dispensers and all paper towels are comprised of 40 percent post-consumer waste. • US Open tickets are printed on paper comprised of 30 percent post-consumer waste, and parking books, parking visors and coupon books are printed on paper comprised of 10-15 percent post-consumer waste. • The 2.4 million napkins in the general concession area are comprised of 100% recycled material. • All US Open-related printed materials (US Open media guide, marketing collateral, tickets and the Daily Drawsheet, among others) will be composed of at least 30 percent post-consumer waste. Food & Service Ware • All serviceware in the US Open Food Village and in Arthur Ashe Stadium eateries is compostable. • Utensils, plates, cups, etc. are comprised of bio-based materials. • Stonyfield Café, located in the US Open Food Village, will feature a grab-and-go dining option serving healthy food―fast. Options are all-natural and/or organic and locally grown. Fan Awareness • 2012 US Open Green Initiatives are featured in the official US Open program. • NRDC's Smarter Living (environmental tips) will be featured in the Daily Drawsheet as well as through US Open social media channels. US Open Merchandise • At US Open Collection merchandise locations, fans will receive with their purchase a US Open souvenir-style shopping bag designed for multiple-use with a "Recycle and Reuse" message printed on the bottom. • The US Open Collection will feature for sale a cinch backpack made from recycled plastic bottles as well as a reusable tote made from 80 percent post-consumer waste, notepads printed on recycled paper, and journals and notecard cases constructed from 100 percent recycled paperboard and 100 percent recycled post-consumer and post-industrial paper product.