Golf's Ecolabel Recognized by ISEAL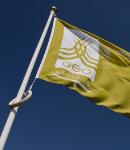 26 June 2013--In a significant milestone for the golf industry, the Golf Environment Organization (GEO) has been accepted as an ISEAL Alliance associate member, following a rigorous formal evaluation by ISEAL, the global leader in defining credibility in sustainability standards systems.
GEO Certified™, the international ecolabel for golf, is the only sustainability standard in the sports industry to achieve this distinction.
GEO joins a group of just less than two dozen global standards organizations that address a variety of critical sustainability issues such as climate change, biodiversity conservation, living wage, and business resilience through standards and certification systems that promote sustainable practices.
"While golf may not seem an obvious fit amongst the rest of the ISEAL Alliance, the hundreds of thousands of people responsible for managing the land and the businesses that provide for the game have long understood their connection with nature and communities. Golf is a prime example of a managed landscape that can have a net positive impact for people and wildlife," explains Gordon Shepherd, GEO Board Member and Policy Advisor to WWF International.
http://www.golfenvironment.org/