NHL Green legacy tree project set for 2013 NHL Draft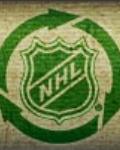 28 June 2013--As part of the League's commitment to preserve and support the local environments of host cities for NHL events, NHL Green today announces a legacy tree project at the 2013 NHL Entry Draft in Newark, NJ.
In cooperation with the Devils Care Foundation, the NHL Foundation is donating 30 trees to represent each Member Club's commitment to sustainability. NHL Green first launched the Legacy Tree Project at the 2012 NHL Draft in Pittsburgh.
This year's project will plant cherry trees near pear trees, creating an aesthetic at the plaza reminiscent of vintage Devils colors, with green foliage accompanied by red and white blossoms. The cherry trees, which are naturally adjusted to the local climate and require little irrigation or fertilizer, will neighbor the south side of the Prudential Center.
"The New Jersey Devils have planted over 100 trees in our neighborhood since Prudential Center opened, helping to promote a greener Newark," said Jeff Vanderbeek, Chairman and Managing Partner of the New Jersey Devils and Devils Arena Entertainment LLC. "We appreciate the NHL's commitment to the organization and our city."
Newark is home to thousands of cherry trees, more than can be found in Washington D.C. Each year, the city pays tribute to its largest grove during Newark's Cherry Blossom Festival. The trees are not only a point of community pride, but together the trees offer environmental benefits to residents – helping to reduce local carbon dioxide levels, improve air quality, and mitigate storm water runoff.
"We hope these trees serve as a visible reminder of hockey's commitment to our local environment," said Bernadette Mansur, Executive Director of the NHL Foundation. "The NHL Green Legacy Tree Project is an example of our commitment to enhance the health, livability, and long-term sustainability of NHL communities."
A press conference for the tree planting will take place at the Prudential Center on Saturday, June 29th at 12:00 PM. Expected to attend the event include Jeff Vanderbeek, Chairman and Managing Partner of the New Jersey Devils; Cory Booker, Mayor of Newark; Anibal Ramos, Jr., North Ward Council Member; Joseph N. DiVincenzo, Jr., County Executive; and Ken Daneyko, three-time Stanley Cup champion New Jersey Devil.
The event will be followed by the NHL top prospects clinic at 1:30 PM at AmeriHealth Pavilion at Prudential Center. The New Jersey Devils, Prudential Center, city of Newark and National Hockey League will host the 2013 NHL Draft on Sunday, June 30 2013 at 3:00 PM.
NHL Green
http://www.nhl.com/ice/eventhome.htm?location=/nhlgreen