Chiefs go an Extra Yard for the Environment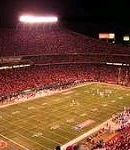 The Extra Yard for the Environment program is designed to integrate environmentally-friendly principles with the sound management of a world-class sports organization and facilities.
The Chiefs are committed to environmental sustainability at Arrowhead Stadium, The University of Kansas Hospital Training Complex, and encourage our fans to actively participate in positively impacting the environment.


Since the Chiefs began implementing and tracking sustainability efforts more than two years ago, the organization has put an emphasis on becoming a more socially-responsible corporate citizen. In that time, waste diversion (the amount of waste that is diverted from landfills through recycling, composting, and other means) has increased from 11 percent to 44 percent. In doing so, the club has formed relationships with like-minded community allies that have helped make the upcoming recycling event possible.


"Becoming a more environmentally-conscious organization has been and continues to be a long-term goal for us," Chiefs President Mark Donovan said. "We want to be a positive example for recycling and sustainability efforts in the community. The Extra Yard for the Environment program ensures that we are well on our way to having a positive environmental impact in Kansas City and throughout the region."
Kansas City Chiefs