Innovations in Wastewater Reuse at Omnilife Stadium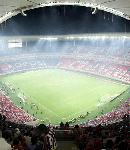 30 November 2012--Omnilife Stadium in Guadalajara, Mexico, which opened in 2010, has become the first stadium in the world to integrate a 100% wastewater treatment and reuse program.
The 50,000-seat stadium, located in the Zapopan suburb of Guadalajara and the host of the Chivas home matches, utilizes a number of biological water treatment processes to filter nearly 140,000 gallons of water from each game.
After the water is collected following each game, it is metered out in daily increments through an on-site treatment system designed by ecological design firm Biohabitats.
Utilizing trickling filters, constructed wetlands, and sand filters in the acreage around Omnilife Stadium, the wastewater is purified. After being disinfected, the water is reused in the stadium for washdown, irrigation and toilet flushing.
The engineered wetland area surrounding Omnilife Stadium integrates native wetland plant species for both water filtration and carbon sequestration.